GENERAL INFORMATION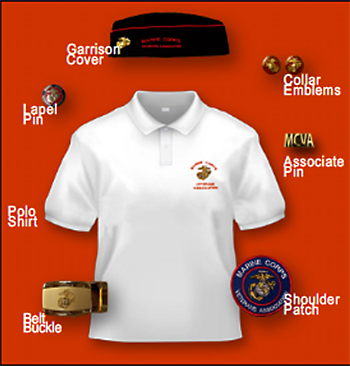 Marine Corps Veterans Association uniforms, ornaments, and accessories are an example of Marine Corps pride—tasteful and subdued. Uniform items should only be worn to official activities and while in transit to such functions and must always be worn with dignity and in a manner that brings credit upon the United States Marine Corps and the Marine Corps Veterans Association.
REQUIRED UNIFORMS
There is no requirement for a member to purchase any uniform items, however it is highly recommended that members purchase at least the garrison cover, the appropriate cover ornament, and a polo shirt. However, members desiring to participate in platoon activities where is vital to present a uniform and professional appearance to the public will be required to wear the uniform that is prescribed for the particular activity. Examples of activities in which a complete uniform will be required are color guards and honor guards.
UNIFORM OF THE DAY
The prescribed uniform of the day for participation in color and honor guards will be the casual uniform, shown at the bottom of this page. This uniform consists of the following items: Garrison cover; appropriate cover ornament; Marine Corps Veterans Association white polo shirt; an approved belt with buckle; non-pleated navy blue cuffless trousers; black socks, and; black plain-toe oxford shoes. The gray Marine Corps Veterans Association winter jacket with black leather gloves may also be prescribed as deemed appropriate to meet existing weather conditions.
PRICES AND ORDERING
Many uniform items may be ordered directly from the Marine Corps Veterans Association national headquarters. These items are of excellent quality and reasonably priced. Prices and information on ordering uniform items is available on our Member Services page.
ADDITIONAL INFORMATION
Further information about our uniforms is available by viewing the Marine Corps Veterans Association Uniform Regulations Handbook.
Get Uniform Regulations Handbook
UNIFORM ILLUSTRATIONS

Casual
Ceremonial
Formal
Winter Jacket
Dress Blues