TOYS FOR TOTS PROGRAM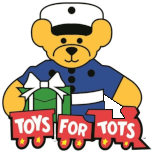 Our members partner with our fellow leathernecks from the Marine Corps League Outer Banks Detachment to collect new, unwrapped toys each year, and to distribute them as Christmas gifts to needy children in Dare and Currituck Counties. The program serves to deliver, through a new toy at Christmas, a message of hope to less fortunate youngsters that will assist them in becoming responsible, productive, and patriotic citizens. To that end, the program's objectives are threefold: To help less fortunate children in our community experience the joy of Christmas; to play an active role in the development of our community's most valuable resource—our children, and; to unite our community towards a common cause each year during the annual toy collection and distribution campaign. The campaign takes place each year during the months of November and December. It is a very popular event for our members and has a proven record of being a worthwhile program to our local children.
ADOPT-A-BEACH PROGRAM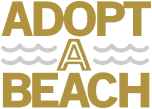 Members of the Outer Banks Platoon also partner with our local Marine Corps League Detachment as participants in the Surfrider Foundation's Adopt-A-Beach Program. We are responsible for cleanup and maintenance activities at the West Third Street Public Estuarine Access in Kill Devil Hills. These cleanup activities are conducted at least six times per year with additional service provided by our members on an as-needed basis. Our members are proud that we have once again committed to giving back to our community to make it a better place through participation in this program.
COLOR GUARD PROGRAM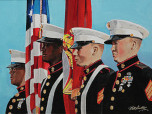 The Outer Banks Platoon Color Guard is a four-member formation, consisting of our senior member carrying the National Colors, a second member carrying the Marine Corps Colors, and two additional members as riflemen. It is currently in the process of forming and its mission will be to render military honors at appropriate events. This traditional formation adds dignity to any military-related activity, parade, or civic event by showing respect to our Nation and those who have served. Community and civic organizations may request ceremonial support from the Marine Corps Veterans Association Outer Banks Platoon for participation in appropriate events. To request our services at local parades, civic ceremonies, and events, please contact us with as much advanced notice as possible.
MARINE ASSISTANCE PROGRAM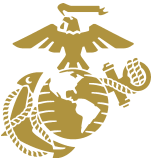 As Marines, we received training from our first day of service to always remain faithful to our God, Country, and Corps. This belief is expressed in the motto of the Marine Corps, Semper Fidelis, which means "Always Faithful." As Marines, we value that belief and strive to take care of our own. From time to time we learn of a local Marine in need of assistance, and true to our motto, we provide assistance to that Marine as needed. Whether the cause for the needed assistance is the result of a family crisis, a medical issue, unemployment, or some other reason, it is irrelevant to us. The only consideration is that a fellow-Marine is in need and requires our assistance. Since our establishment we have remained true to our commitment to "take care of our own" and offer assistance to our local Marines and to veterans from other branches of the armed-forces. Those knowing of any local veteran in need of assistance are welcome to contact us to request assistance.
VISIT-A-VETERAN PROGRAM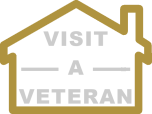 Through our Visit-A-Veteran Program, members of the Outer Banks Platoon perform visitations to ailing and infirmed veterans in our local community. Whether the veteran is in need of a visit at home, in the hospital, or at an extended care facility, we strive to let them know that there are fellow veterans who truly care about them. Our visits offer relief to veterans from the loneliness and boredom that often accompanies illness through a warm handshake, a friendly smile, and words of encouragement in the struggles of their illness or injury. Lastly, our visits serve as a visible reminder to our veterans of our gratitude to them for their honorable service to our Country. Those with any knowledge of a veteran who would benefit from this program are asked to contact us.
CHRISTMAS TREE PROGRAM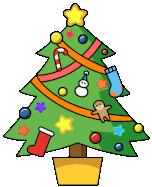 In an effort to add upon the message of hope and joy during the Christmas season, members of the Outer Banks Platoon partner with a major local retailer to acquire and donate a number of artificial Christmas trees to those in need here on the Outer Banks. Each tree is new, boxed, pre-lit, and typically range in size from 3½ to 9½-feet. These trees are offered to those in need through locally-targeted social media resources, with a priority being given to veterans in need. Those selected to receive a Christmas trees through this program will have it delivered to their home with the wishes for a Merry Christmas and a healthy and happy New Year on behalf of our local Marines. Those within our community desiring or knowing of someone requiring assistance through our Christmas Tree Program are encouraged to contact us for further information.
SPECIAL RECOGNITION PROGRAM
Through our Special Recognition Program the Outer Banks Platoon seeks to recognize local citizens, groups, or businesses for meritorious deeds that demonstrate loyalty and patriotism to our nation, noteworthy acts of service to our community, or to extend our gratitude to those who provide support towards our mission. Those selected by our membership to receive recognition are presented with a framed Certificate of Appreciation at an appropriate ceremony. Although we actively seek out those worthy of recognition, members of our community are invited to contact us to recommend an individual, group, or business.